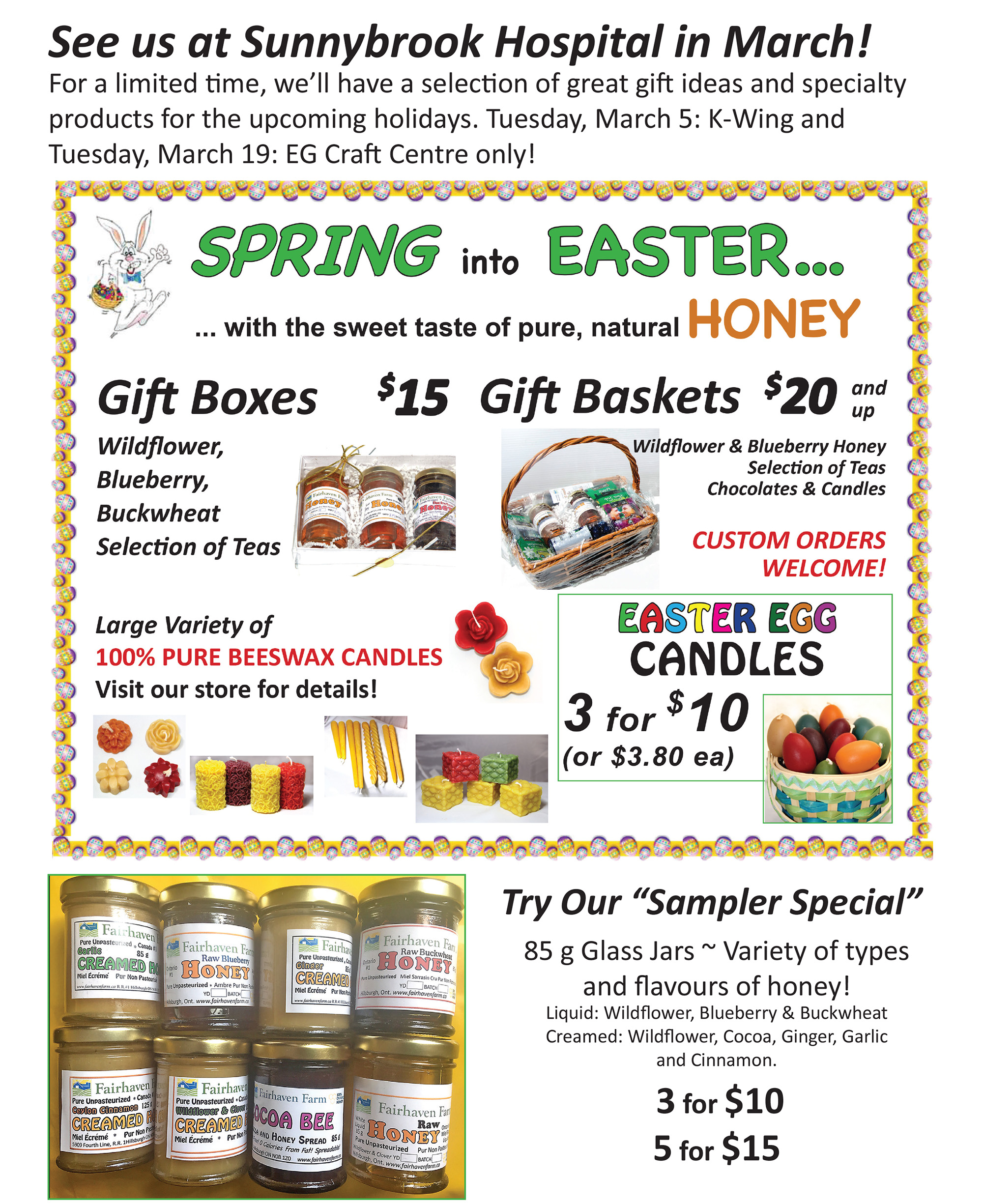 So often we get asked: "Do bees hibernate in the winter?" The answer is no, they are awake in winter and will even leave the hive if there is a warm, sunny day like there was in January, 2018 when it hit 12C for a couple of days. When it's cold, bees form a cluster with the queen in the centre where it's warmest. They flap & rub their wings to create friction & keep warm, with the bees on the outside moving toward the middle when they get cold. The cluster moves together from one frame to another to feed on the honey they've stored in the winter. The hive box is warmest at the top.
We wrap our hives and insulate the top to help keep out drafts, which affect the bees more than the cold temperatures. But a nice layer of snow provides added insulation. Sometimes, I like to go out and put my ear against the hive boxes. If I can hear the low humming sound made by thousands of bees, then I know all is well in the hive ... for now at least.
Shop online
---
Special Events 2019
SUNNYBROOK HEALTH SCIENCES CENTRE
207 Bayview Avenue, Toronto
8 a.m. to 4 p.m.

TUES. MARCH 5, K-Wing
TUES. MARCH 19, EG Craft Centre
FRI. APRIL 5, Holland Centre, 43 Wellesley St. E. Lobby
TUES. APRIL 9, K-Wing
TUES. APRIL 30, EG Craft Centre
THURS. MAY 30, EG Craft Centre
MON. JUNE 17, MG Lobby
TUES. JULY 16, K-Wing
TUES. AUG. 6, K-Wing
MON. AUG. 19, MG Lobby
MON. SEPT. 23, EG Craft Centre
TUES. NOV. 5, K-Wing
MON. Dec. 2, MG Lobby
MON. Dec. 16, EG Craft Centre


Farmers' Markets
Brampton Farmers' Market 
Saturdays 7 a.m. to 1 p.m.
June to Nov.
Main St. North of Queen St.
Brampton Mount Pleasant Market
Thursday aft. & eve. (Time TBA)
June to Oct.
At GO Station 
Georgetown Farmers' Market
Saturdays 8 a.m. to noon
June to Oct.
Main St.
Acton Farmers' Market on 7
Thursdays 3-7 p.m.
June - Oct.
365 Queen St.  (Hwy. 7) at Churchill
Bethel Church parking lot
Erin Farmers' Market
Fridays, 3-7 p.m.
MacMillan Park, Main St. Erin
June to Sept.
Across from ValuMart

Retail Locations
Mississauga Flea Market
3092 Mavis Rd. N of Dundas
Sat. & Sun. 10-6
Honey available inside flea market
at booth selling nuts. 
MacMillan's Acton
519-853-0311
MacMillan's Guelph
519-265-5592 
Black Angus Bakery & Catering
Stratford, 519-273-2253
Ontario Honey House
Toronto 647-787-6657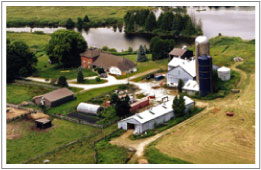 Pesticide, chemical,
antibiotic & hormone free
At Fairhaven Farm we believe that both livestock and crops are best raised as naturally as possible.